AFL-CIO National Day of Action June 17th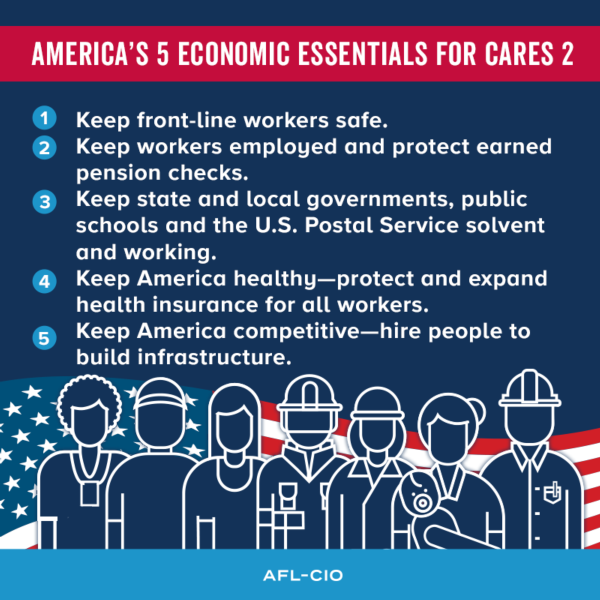 This action was slated to happen on June 3, 2020 and focus on the 5 essentials of restarting our economy while getting ALL workers back to work safely; but the event that happened on May 25, 2020 changed our world forever.
The Southwest Washington Central Labor Council has decided to make this a Social Media Action to get the word out that the Labor Community and ALL working people are leading the way standing up for workers Safety and the fight against Systemic RACISM. This action is something you can do from home and it will make a HUGE difference. We need to get our message out there and help make a change when and wherever we can!
Please take a screen shot of your FB post or picture of you taking action online and send it to info@swwaclc.org.
Thank you in advance for your Activism.
In Solidarity,
Shannon A. Myers
President
Southwest Washington Central Labor Council
360-921-5225
---
Action 1
Systemic Racism
The Southwest Washington Central Labor Council has put together a statement regarding Racism and some of the actions that we will be doing to help this fight. Thank you to our sisters who came together and put this powerful document together: Marj Hogan, Bethany Rivard, and Traicy Brent.
Go to our website and check out our statement on Racism and email it or share it with your union leadership, have them share it with the members and then share it with friends and family!
http://www.swwaclc.org/index.cfm?zone=/unionactive/view_page.cfm&page=SWWACLC20Statement20On20Race20and20Labor
Check out our Facebook post that we posted on June 15th and SHARE it with all you know!


Create your own Facebook post using our statement on Racism and the artwork Below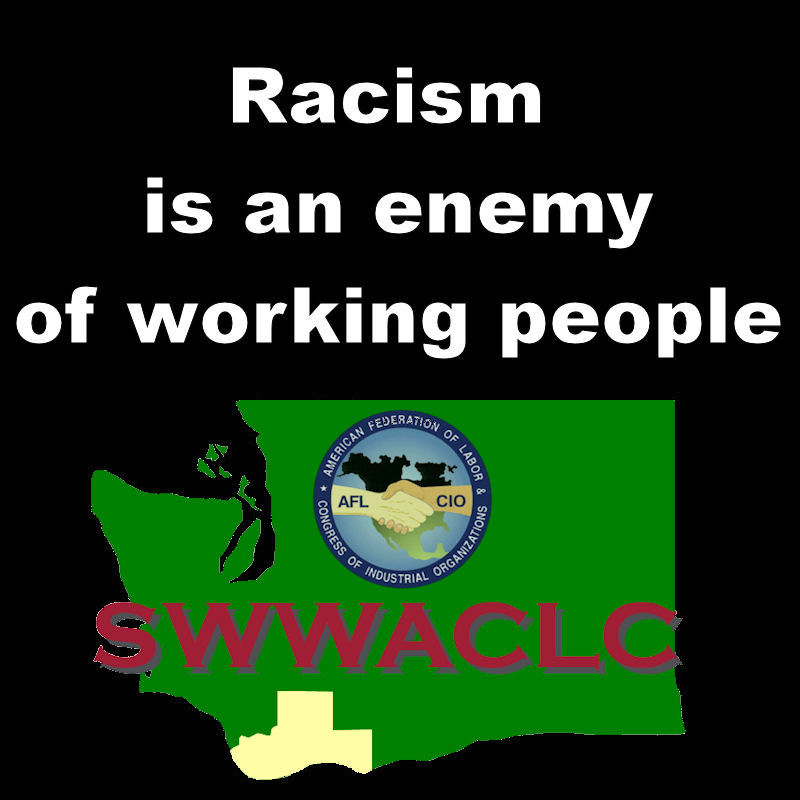 Action 2
Workers Safety and Security – 5 Economic Essentials
Go to our Facebook and Share our Day of Action posted today. Let people know that you are passing on this post to let people know that labor is in the fight for safety, security, and equality for all!




Put together your own post and share on your Face Book using the information and graphics below.
Send an email with your union leadership on the 5 essentials and our action to just spread the word that Labor is leading the way and looking out for ALL working people. Have them share it with the members and then share it with friends and family!
Topline Messages
America faces crises on three critical fronts: a public health pandemic, an economic free fall and long-standing structural racism.

As America's labor movement, we must urgently address all three with precision and purpose. They cannot be fixed separately.

America's Five Economic Essentials must be combined with substantial policing reforms and implemented in ways that recognize the disproportionate impact of COVID-19 on workers of color.

This comprehensive agenda for the three crises addresses all working people's needs for safe jobs, economic security, and freedom from systemic racism.
1. Keep Front-Line Workers Safe and Secure
America's workers need us to reopen safely, not prematurely.

As millions of Americans are working from home, the essential workers directly exposed to the coronavirus are disproportionately people of color. As they keep us safe, we must make sure they are safe on the job.

Nearly one-quarter of black workers are employed in the service industry, while more than 16% work in transportation, production, or delivery.
2. Keep Workers Employed and Protect Earned Pension Checks
Unemployment in America is at record levels—with the official rate at 13.3% and broader measures, including those involuntarily working part time, are more than 20%.

While the May unemployment rate dropped modestly to 13.3% from 14.7%, black unemployment rose to 16.8%.

Black women have experienced the largest drop in employment of any demographic group.
3. Keep State and Local Governments, Our Public Schools and the U.S. Postal Service Solvent and Working
The COVID-19 economic crisis is threatening the finances of state and local governments, our public schools and the Postal Service, critical resources for America's communities.

This crisis has a disproportionate impact on black communities—for example, black women make up nearly 18% of public sector workers—or about 1.5 million workers. They represent the highest share of workers in the public sector.
4. Keep America Healthy—Protect and Expand Health Insurance for All Workers
While black people make up about 13% of the U.S. population, they account for 34% of COVID-19 cases and are more likely than white people to die from the coronavirus.

Black Americans of all ages not only have persistently lower health insurance coverage rates, but they also are more likely to lose the insurance they already have during a pandemic with no end in sight.
5. Keep America Competitive—Hire People to Build Infrastructure
Public investment in America's infrastructure—our schools and hospitals, transportation, energy, and telecommunications systems—is key to the immediate job creation we need and to our long-term competitiveness. The need for investment in modernized schools, additional hospitals and public assets like universal broadband is particularly important for communities of color enduring digital and health deserts.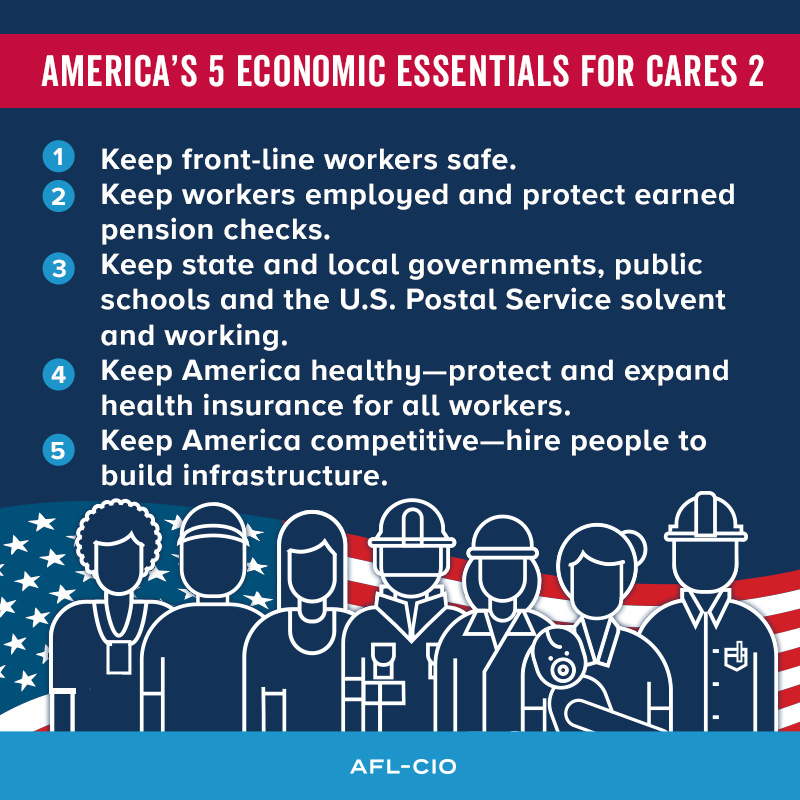 Download:

2020.05.28_cares2c_b_800x800.png